Apply

join
About Trooper Island
Trooper Island Kid's Camp was developed by the Kentucky State Police as part of a long-range program of public service to the youth of Kentucky: a place where the tensions and turmoil of our everyday lives can be forgotten, and for one-week young people can be given a touch of hope and desire of a better tomorrow. Spearheaded by former State Police Director Colonel James E. Bassett, the idea was to establish a permanent recreational site where trooper and child could share a week-long experience. A location was selected in a secluded corner of Dale Hollow Lake near the Cumberland and Clinton County line, where an island was leased from the U.S. Army Corps of Engineers, and a non-profit charitable corporation was formed.
2024 Raffle Car Information

2024 FORD MUSTANG® GT PREMIUM CONVERTIBLE

Thank you for your support of Trooper Island! This year's Trooper Island Camp Raffle vehicle is a 2024 Ford Mustang® GT Premium Convertible. Tickets are $10 (plus small processing fees if purchased online) and can be purchased online until August 23rd 2024, at noon EST. CLICK HERE to purchase your tickets!

Online sales may end sooner depending on availability. While online ticket sales end on August 23rd, 2024, we encourage you to stop by our booth in the State Fair to purchase a ticket in person.

The drawing will be held on August 25th, 2024 at 3:00 pm EST. You do not need to be present to win. Purchasers do not need their ticket stubs for any reason. However, the stubs will be kept until raffle winner has taken possession of the vehicle.
Donate to the Island

HOW TO MAKE A DIFFERENCE

All construction and camping expenses are paid from tax-deductible contributions. Many industry, civic, and business groups have supported this program.

Contributions and/or Request for Further Information should be directed to:

TROOPER ISLAND, INC.
KENTUCKY STATE POLICE
919 Versailles Road
Frankfort, KY 40601
Phone # (270) 433– 5422

or online at: https://squareup.com/store/trooper-island
Trooper Island Scholarship Program
Trooper Island Camper Application
Testimonials
Julia Sams
It may have been 11 years ago, but sometimes the memories I made at this camp still feel like it all just happened yesterday. I went to a couple of camps when I was a kid – but this one was the only one that made a difference.
Richard Kindall
I was 13 at the time. I really enjoyed my time there and I really appreciate the Troopers and everyone that is involved with Trooper Island for the chance. I just wanna thank everyone involved for sending me to camp back in the summer of 1971, – many years ago. Thank You and God Bless!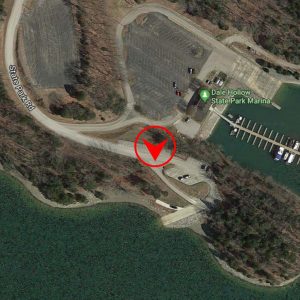 Trooper Island Boat Dock
Directions from Northern Kentucky

Take I-75 South
Turn onto KY 461 (Exit 62) toward Somerset
Turn right on KY 80
Turn onto US 27 South
Turn right on KY 90
Turn left on KY 449
Turn left on 1206. This road will take you straight to the dock where the Trooper Island barge picks up guests.
Directions from Western Kentucky

Take Louie B. Nunn (Cumberland Parkway) East
Exit 14 (KY90)
Turn right at bottom of exit ramp
Turn right on KY 449
Turn left on KY 1206. This road will take you straight to the dock where the Trooper Island barge will transport guests to the island.
Directions from Eastern Kentucky

Travel either North/South on US 27 to the intersection of KY 90
Travel West on KY 90
Turn Left on KY 449
Turn left on KY 1206. This road will take you straight to the dock where the Trooper Island barge picks up guests.